Air conditioning
Climate 3000i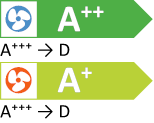 The Climate 3000i is a reversible single split air conditioning unit which provides heating and cooling from the same source suitable for new installations in residential and small commercial properties.
Reduces power consumption with 'Eco' mode and 'Gear' mode features
'Wind avoid me' mode adjusts air flow direction to prevent direct breeze
Breathe in clean air with the 'i-clean' function that eliminates up to 99% of bacteria
Indoor and outdoor units noise levels are reduced down to 20 dB(A) with 'Silent' Mode function
Control from your smartphone with WiFi connection, wherever you are with optional HomeCom Easy App and Connect Key G10 CL-1
Energy efficiency rating of A++ for cooling and A+ for heating, our newest design delivers the best solution to give user comfort with low energy consumption
Technical Details and Documents
Welcome to Bosch Thermotechnology
Bosch Thermotechnology underlines the importance of the home as the origin of the energy transition
Without decisive emission reductions in the building sector, i.e. in the 'home', Europe and the world will not achieve their ambitious climate targets. Bosch Thermotechnology supports people around the world in their search for energy-saving heating and air conditioning solutions, no matter what their home looks like today.
Please select Brand and Country